Hays Executive Search

What we do
Hays Executive Search is a dedicated search and selection practice, that headhunts executives for senior, niche or hard-to-fill vacancies. As a specialised division of Hays, the leading global recruitment agency, we have unique access to highly skilled individuals at senior levels – many of whom are not actively seeking their next career move.
Industries
Each member of our Executive team specialises in specific industries; awarding you with a partner who has unique knowledge of the market, including insight into the specialist skills required of your sector, and the location of top talent within this. Our sectors include:
Aviation & Aerospace
Banking & Finance
Construction & Property
Consumer
Defence
Education
Government
Healthcare
Hospitality
Industrial
Infrastructure
Insurance
Legal
Life Sciences
Logistics & Supply Chain
Marine
Power & Energy
Professional Services
Real Estate
Technology
Regions
We recruit for organisations located across the Middle East and North Africa region – including the UAE, Qatar, Oman, Bahrain, Kuwait, and Saudi Arabia. Our search methodology utilises the global scale of Hays to headhunt the highest calibre of candidates that match your requirements.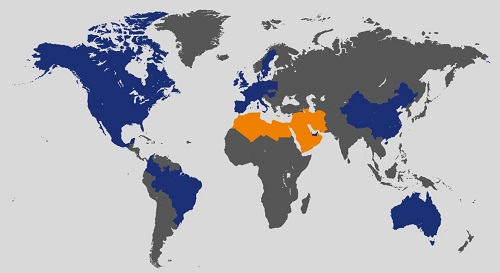 Hays Salary Guides
View our latest 2022 salary guides and read more about our salary benchmarking services.
RHB Hays 2020 Saudi Arabia Salary & Employment Trends Report
Hays Saudi Arabia Salary Guide
Read latest trends on salaries, employment and benefits packages, as well as workforce turnover in the Kingdom.