Employer services
If you are an employer looking for salary benchmarking information or recruitment assistance, get in touch via the link below.
Job seekers
Browse all current job vacancies and register your CV to be considered for future opportunities.
Salary & Employment Report
Hays 2021 GCC Salary & Employment Report

Out now
Hays annual GCC Salary & Employment Report is our freely available publication that provides in-depth analysis of the hiring market and employee salaries within the GCC region.
Based on survey findings from over 3,500 employers and employees across the region, the latest edition takes a detailed look at salary and hiring trends from 2020 and employee and employer expectations for 2021.
Job categories covered include: Accountancy & Finance, Banking & Financial Services, Construction, Property & Engineering, Human Resources, IT & Digital Technology, Marketing & Digital Marketing, Office Support, Procurement & Supply Chain, and Sales.
Key findings:
2021
82% of companies are already in recovery, business as usual or growth phases of business following the pandemic
64% expect to recruit additional staff in the next 12 months
47% of employers expect salaries in their organisation to increase in 2021
78% of employees want greater flexibility to their working patterns in 2021
2020
45% of employers reduced headcount in their organisation in 2020
28% were severely negatively impacted by the Covid-19 pandemic
21% of businesses were unaffected or positively impacted by Covid-19
The most robust sectors with the lowest number of pay cuts in 2020 (just 6%) included Telecoms, Pharmaceuticals & Life Sciences, and Banking & Capital Markets
Sectors that experienced the greatest number of salary reductions (34%) were Aviation, Hospitality & Tourism, Engineering, and Property
48% of employees' salaries remained the same in 2020 as in 2019, 34% increased and 18% decreased
Press coverage:
Past editions:
Bespoke salary guides
If you are looking for a more tailored report – focussed on your organisation, specific job roles and industries, we have a dedicated team who can help.
Hays 2021 GCC Salary & Employment Report
Get your copy of our most recent salary and hiring trends report
RHB Salary benchmarking AE
Salary Benchmarking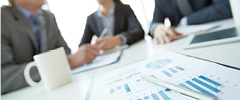 Our salary benchmarking team focuses on delivering bespoke salary and reward reports to help you make the best workforce management decisions.