Tech industry recruitment and workforce solutions in the middle east

Tech industry recruitment and workforce solutions in the middle east
Our recruitment experience in tech
Partner with us and we'll find the best people to fill your vacancies. We'll also offer a huge variety of workforce solutions and services that can propel your organisation forward with technology front of mind.
Whether your challenge is to hire talent for right now, or to unlock the possibilities of a truly agile infrastructure, we are the leadership partner that can deliver against all your hiring and workforce solution needs. And we've got the experience to back it up.
We've partnered with organisations across a broad range of sectors, providing family groups, enterprises, consulting / service providers, e-commerce, start-ups, fintech and other organisations with best-in-class tech talent and strategic guidance, as well as professional workforce services.
We help organisations secure talented tech professionals in permanent and contract roles, helping to deliver against a complex tech recruitment landscape. Our customer-first and insight-led approach will enable you to meet your business needs and deliver long-term value.
Being experts in the technology industry, we have a team of dedicated specialist tech consultants, using the latest technology to help you innovate like a start-up and deliver like a respected enterprise.
You can take advantage of our innovative customer and employee engagement initiatives, as well as benefit from our valuable partnerships, products and services.
Whatever your tech recruiting needs, we've got you covered, with our breadth of tech talent networks spanning but not limited to the following professions:
Data engineering, analytics and science
Machine learning and AI
IT security and cyber security
Software development
DevOps
Cloud computing
IT infrastructure
Project and change management
Get in touch with us today to discuss your workforce and professional advisory needs.
Tech industry clients we work with
With over 18 years of recruitment experience in the region, we're a leadership partner to a vast range of tech employers. We've placed candidates in permanent, contract and executive level roles in organisations of all size and structure, from start-ups to tech giants, and across many different locations, including Dubai, Abu Dhabi, Sharjah, Ras Al-Khaimah, Riyadh, Jeddah, Doha and Kuwait City.
Join our vast range of tech clients who have benefited from our expertise and sophisticated talent networks, securing some of the best tech talent.
Tech recruitment services
It's not just people we provide – whatever your workforce challenge, we're constantly innovating and evolving our services so we can build the best solution for your organisation.
Whether you need someone to fill a permanent position, a contractor to make an instant impact, an inspirational leader to transform your business, or want to outsource your hiring completely, we've got you covered.
Our core services include permanent, contract and executive recruitment, recruitment process outsourcing and contract management outsourcing.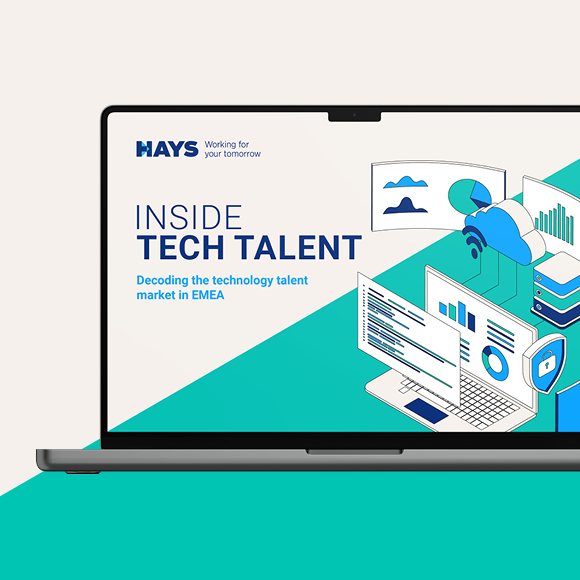 GET INSIDE TECH TALENT
Discover extensive data and expert advice to help you secure in-demand tech professionals in the Middle East and Europe.
Access the report
A SOLUTION FOR EVERY WORKFORCE CHALLENGE
Power your strategic ambitions
TALK TO HAYS
FIND OUT HOW WE CAN HELP
I'm interested in Enterprise Solutions
Today's solutions lay the foundation for pursuing tomorrow's opportunities. Aided by technology and automation, we make managing complex talent needs simple and easy.
Discover how
I'm interested in recruitment services
Whether you're seeking contract support or permanent employees, we have candidates - including UAE and Saudi national citizens - that are sure to fit the bill.


Find out more