Six Telephone Interview Techniques To Find Better Candidates
5 min read | Richard Eardley | Article | Recruiting Conducting interviews Permanent hiring Temporary & Contract hiring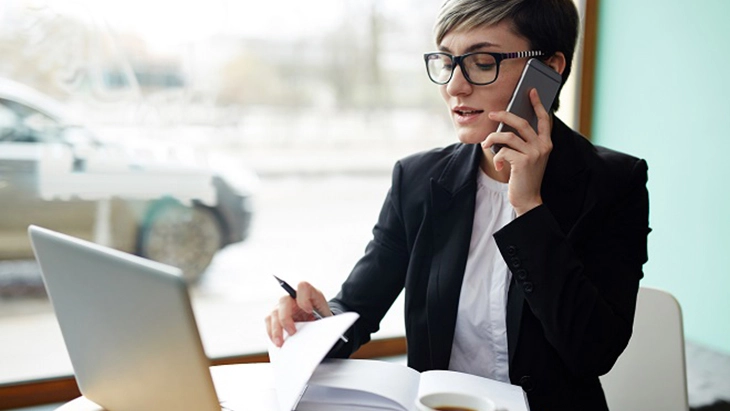 Learn how to interview someone for a job over the phone and find top-quality candidates. Our leading Asia Managing Director, Richard Eardley, provides the latest techniques all hiring managers need.
Telephone interviews: Key Insights
Telephone interviews are a cost-efficient way to create a short list of your best candidates before face-to-face interviews
Interviewers often waste telephone interviews by not asking enough questions or asking too many
You can improve your over-the-phone interview technique by understanding what is and isn't important during the first-stage interview
Anyone can improve their interviewing skills with the 6 tips in this article
Keep reading for 6 ways to improve your telephone interviewing skills as an employer or hiring manager. Recruitment expert Richard Eardley, also shares his phone interview structure for you to use.
Contact your local Hays office for advice on your interview process and hiring strategy.
How can you get more from your first-stage telephone interviews?
What did hiring managers do before telephone interviews? CVs often only tell half the story, so time-consuming face-to-face interviews were essential. Interviews aren't so much of an issue if the candidate is a great fit for the role, but they can be frustrating for hard-to-hire positions.
In essence, for some complex roles, face-to-face interviews can likely lead to hours of preparation and travelling on both sides going to waste.
Telephone interviews are a time and cost-efficient way to build a shortlist of only the strongest candidates to invite for a face-to-face interview. Not only this, but telephone interviews give you a good idea of the strength of their communication skills, clarity of thought and ability to build a rapport.
Telephone interviews offer all this and more when you conduct them appropriately. So, how can you master your telephone interview technique to find the best talent?
6 ways to improve your telephone interview technique
Challenge yourself to ask the right questions
It can take time to decide which questions to ask during a telephone interview. The wrong questions will leave you with no clear idea of whether this candidate is suitable for a face-to-face interview. Comparatively, some interviewers go so in-depth that there is nothing left to ask during the face-to-face interview.
Remember, the telephone interview decides whether the candidate has the core essentials needed to be able to do the job. Use them to justify having a face-to-face interview, where you will have the chance to find out more.
How to ask the right questions when interviewing someone over the phone:
Identify your "must have" criteria for you to invite a candidate to a face-to-face interview
Consider which of these "must-haves" are better off assessed face-to-face rather than over the telephone.
Focus your telephone interview questions on whether the candidate meets this criterion.
2. Assign extra time at the start to build a rapport with the candidate
While I said the telephone interview stage is about your must-have criteria, your chemistry is still important.
If you adopt a warmer, personable approach, you are more likely to make the candidate feel relaxed. A relaxed candidate can better answer your questions with all the information you need to make an informed decision.
The face-to-face interviews are mainly for getting to know the candidate and building rapport. But you can still engage in conversation and create a positive first-stage interview experience during the telephone interview.
3. Turn off distractions and make sure you are fully present
Remember, the interview isn't all about you. You also must ensure your candidate's interview experience is positive. If you are distracted (and they will be able to tell, trust me), they will be less likely to want to proceed.
While on the call, don't multitask, check your work emails, or answer other calls. Ensure you are interviewing in a quiet area where you won't be interrupted.
If you aren't fully present, not only will this deter the candidate, you won't be able to get the information you need. As a result, the time-saving element of the telephone interview stage becomes a false economy.
4. Use motivation-driven questions to weed out any disinterested candidates
Telephone interviews are also a good chance to separate the candidates keen on this opportunity and those who could take or leave it.
Did the candidate answer the phone promptly and professionally and make an effort to have the call in a quiet place? Did they appear to have done their research, demonstrating some pre-existing knowledge about the company? Did they have questions for you about this position? If not, this could indicate that they aren't taking this opportunity seriously to warrant a face-to-face interview.
5. Create a structure and agenda for your phone interview
Set 40 minutes aside for the telephone interview, but keep it to 30 and stick to a structure. This way, you will get the most out of your time on the phone without feeling like you are rushing the candidate or rushing yourself.
I would personally recommend following this framework:
5 minutes introducing yourself, the team, the role and how it fits in with the company
20 minutes for questions and answers
5 minutes to allow for their queries and to wrap up the telephone call
10 minutes leeway
You should ask every candidate the same set of questions and take notes. Finally, run all your telephone interviews in quick succession so you can draw a fair comparison.
6. Be transparent about the role they are interviewing for
As you wrap up the interview, be completely clear on the next steps of the process. If you think you might be keen to see them for a face-to-face interview, let them know that you'll be in touch. If you want them to come in, ask them if they are still interested in having a face-to-face interview.
After the telephone interview, give feedback to your recruiter as soon as possible. If you want to meet this candidate for a face-to-face interview, strike while the iron's hot and book an interview immediately.
Telephone interviews are a time-effective way to put the initial feelers out for a candidate's suitability. That is, provided that you plan ahead to make the time, you have both informative and inquisitive in equal measures. Following my advice will make you one step closer to placing your perfect hire.
Telephone interviews: what's next for your business
Want to attract and interview the best talent? Our talent attraction tips and advice will help you attract the right people for your business.
Or contact a Hays consultant about your recruitment process by finding your local office here.
About this author
Richard Eardley became Hays Managing Director of Asia in November 2017, after a 30-year career with Hays. He is responsible for the day-to-day operational management and growth of the businesses in Mainland China, Hong Kong, Japan Malaysia, Singapore and India.