Hays Journal
Hays Journal

Unrivalled insight into the world of work
Hays Journal is an industry first, award winning publication for HR professionals. Inside we provide insight and news on the ever-changing world of work.
Hays Journal Issue 18 - out now!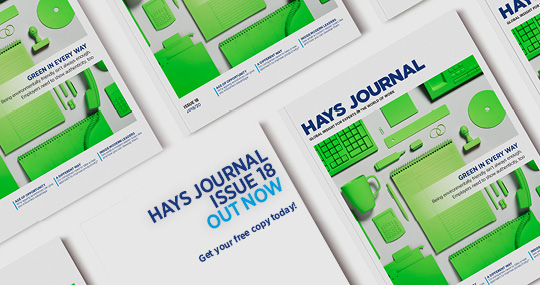 Highlights include:
The Big Idea: Increasingly, companies face calls from customers and employees to improve their green credentials. How can they do so in an authentic way?
In the Workplace: Modern business challenges can require new approaches. Leaders need to evolve their skills accordingly
Leadership Profile: Kiko Washington, EVP, Worldwide HR, Warner Bros. Entertainment, discusses how the organisation is building a more diverse future
Rising to the Challenge: Despite its potential, many businesses struggle to use gamification effectively. How can companies better engage their staff with it?
Focus: Many countries will soon be faced with an ageing workforce. See how they can treat this as an opportunity
Analysis: As productivity levels stagnate to below pre-financial crisis levels, is time running out for traditional measures such as output?
Tricks of the Trade: See why some organisations are exploring whether offering improved recognition could be more beneficial to people than trendy perks
Download your free copy - click here
Previous editions
USEFUL LINKS:
RHB - Salary guide
Hays 2020 GCC Salary & Employment Report
Get your copy of our most recent salary and hiring trends report
Candidate RHB - career advice
Career advice
Find all the career advice you need to stay competitive in the job market
RHB Job seekers
Job seekers
Browse all current job vacancies and register your CV to be considered for future opportunities.
RHB Employer job reg
Employer services
If you are an employer looking for salary benchmarking information or recruitment assistance, get in touch via the link below.